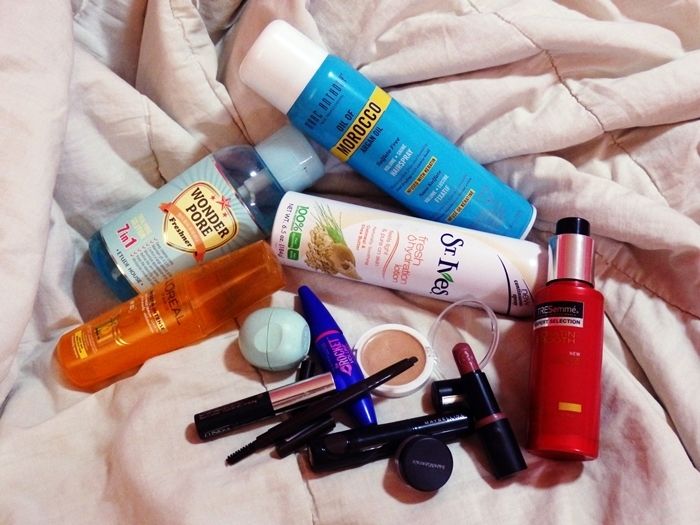 Since my senior year I've somehow been sucked into the world of beauty. I don't really know why but it's just... girly. So here's like a replacement for monthly beauty favourites since I use the same things for months and months until I have money to repurchase that thing or try a new product.
Girly things would focus on well... girly things like makeup, skin care stuff, and hair care stuff. Mostly makeup though.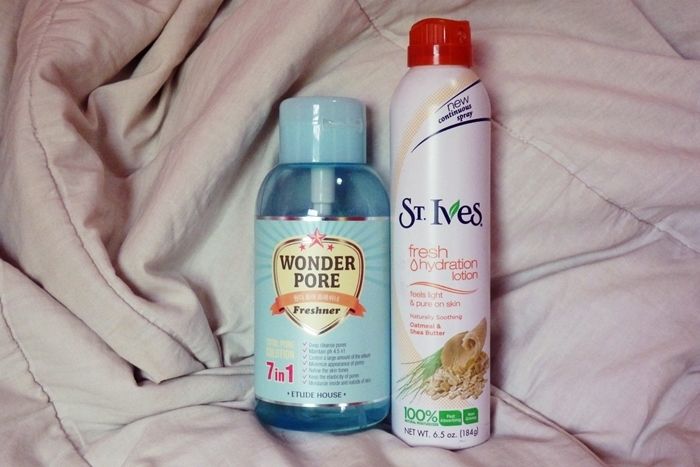 I'm starting with
skin care
since I've had these products for more or less a year. And I've been trying to use it every single day but I suck at sticking to routines.
The first one is the
Etude House Wonder Pore Toner
, this is a continuous repurchased product. First discovered it from my sister since during that time, she was the one with the money to purchase anything beauty. I'm not the biggest fan of toners but this didn't feel like one. It wasn't harsh on the skin and it moisturizes! As I've said I suck at routines and am very lazy at the same time so using this product is like hitting two birds with one stone!
Like toners, I don't like lotions. I find them very sticky. Living in a humid tropical country doesn't really work well with those likes of moisturizers. My aunt introduced me the
St. Ives Fresh Hydration Lotion
and it's like a mix of a mist and a lotion. I think that it's water based and it made things a whole lot better. I just spray it on my arms, legs and rub it in and it's smooth, it's not sticky at all, and it's very moisturized!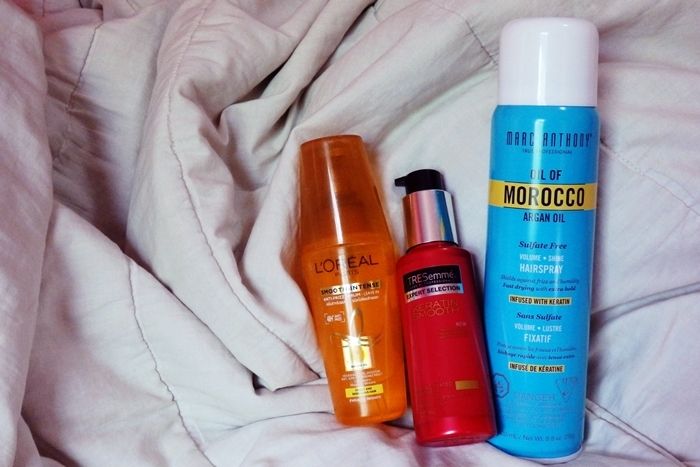 Moving on to Hair! My hair's a mess seventy percent of the time and once again I'm blaming the humid weather. Also a little more information about my hair is that it's a bit try, it's very thick and it's soooooo damaged already... and in a desperate need of a haircut.
I discovered the
Tresemme Keratin Smooth Heat Serum
from Zoella in one of her
all thing's hair
videos. And late December last year, I decided to purchase the product all together and try it out. The sleekness of my hair did last for more than 4 days but I don't think it worked through 4 washes like what the products say. I always found myself needing to add a pump and straighten it a bit after two washes. But all in all, I like it! It tames my naughty hair and it smells great!
The
Loreal Smooth-Intense Serum
is something my mum and sister use a lot and I'm not a fan of oil based serums (wow! I'm not a fan of a lot of things...) since my hair gets oily quickly. But I put that peeve aside and used this product since it has argan oil and it helps my hair to be less damaged. I usually put one to two pumps and put it in my hair after I use the Tresemme serum.
Lastly for hair, is the
Oil of Morocco Argan Oil Hairspray
. I have a love-hate relationship with this product since it still makes my hair crispy (found out that it was a extra hold hairspray) whenever I use it and it's incredibly sticky! On the bright side though, it's not as crispy as my other hairsprays that makes my hair feel like wood whenever I use them.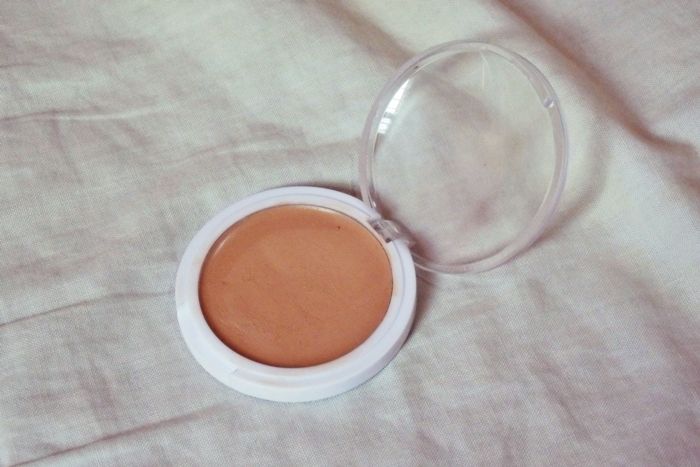 This is my current holy grail product! It's the
E.L.F. Cover Everything Concealer in Medium
and I can't find words to explain how much I love this product. Okay, I used to have the ELF Perfect Blend Concealer and it doesn't look natural in any way. It felt more like a highlighter than a concealer and it doesn't last all day. To be honest I wasn't really planning to buy this product since I thought that liquid concealers are better than a gel-like ones. Let's face it I suck at describing this. What I love about this product is that it covers my under eye circles, my redness, light spots and it
laaaaaasssssttttssss all day
! I find myself looking at beige residue in my wet wipes and towels when I remove my makeup off. And let me tell you, this product sticks to me through thick and thin, through sweaty and sticky travels. (except when I have my swimming classes though) I also have to point out that I don't set them with any type of powder or foundation on top of this product! It's just the absolute best and I recommend this to everyone because it's cheap and it does the job! It has four shades, Correcting Yellow, Light, Medium and Tan. So go out and grab these babies!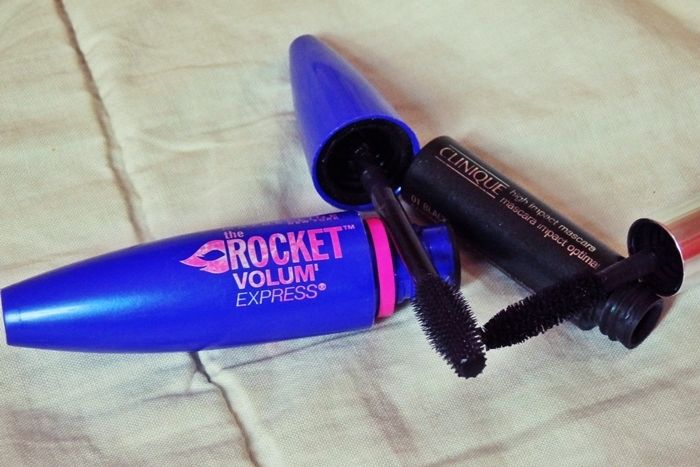 Mascara became a staple to me when I entered college. I don't know why but it did. These two mascaras here are my favourites since both are washable and I could take them off whenever I want as long as there's water. Maybelline's
The Rocket Volum' Express
mascara received a lot of love-hate reviews and I have to agree at first. But as I use the product, I figured how to use it without it getting clumpy or tacky (don't shimmy the wand, let it glide through root to tip!) and I really like the formula of this one. Even though it is washable, it doesn't come off easily. What I mean is that if I'm sweaty, I don't get raccoon eyes. To remove the product you need to rub your eye or get your eyelashes soaked in water (or sweat - happened to me once in a ride home, rested my head on my arm, I was sweating, when I removed my arm, the mascara's there). As for the
Clinique High Impact Mascara
got this off my mum's makeups and fell in love with it though the formula is more washable than the Rocket, it's very good for just everyday or times when you just wanna wear makeup even though you're just at home. All in all, I loved both product because it looked natural. Both gave off long thick lashes without making it look like falsies which can be too much for me especially when I wear makeup for my classes that only lasts for 4-5 hours.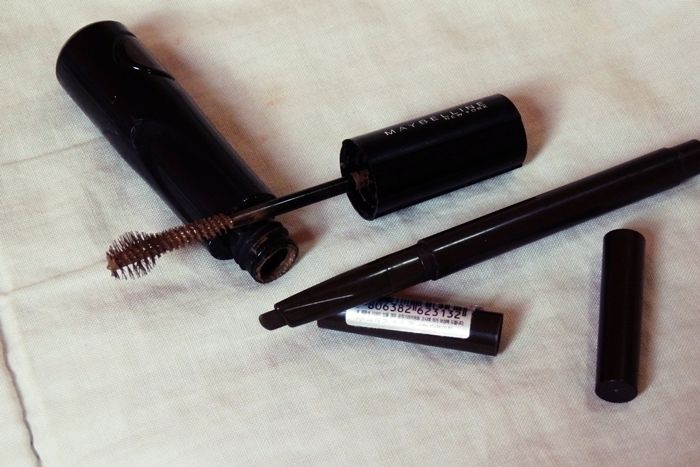 I wasn't blessed with amazing eyebrows, though they're not the worst either. They're just, blurry and not dark enough to be nice. So first off is the
Etude House Drawing Eyebrow
once again got this off from both my mum and sister since I just stated to fill in my eyebrows last year. I did use the ELF Brow Kit that's like a dupe for the Benefit Browzings (I think). What I like about this product is that it's
my
perfect shade of dark brown, since it doesn't look like it's drawn when I use them and the colour comes off light and you can build it up to how dark you want your eyebrows to become.
Recently, when Maybelline had a sale here, I decided to pick up their
Brow Drama
(called Fashion Brow here in Manila)
just to know what the hype on brow mascaras is about. For this product, I'd say that it's too light for my liking but more natural than my brow pencil which is good. The application is also easier and a lot faster than filling in my brows since I just glide the wand through my eyebrows a couple of times, focus it on the middle part and I'm done! I have to say though, whenever I remove brow gels, my eyebrows get picked off, any help on that? Maybe it's the product? Maybe it's me?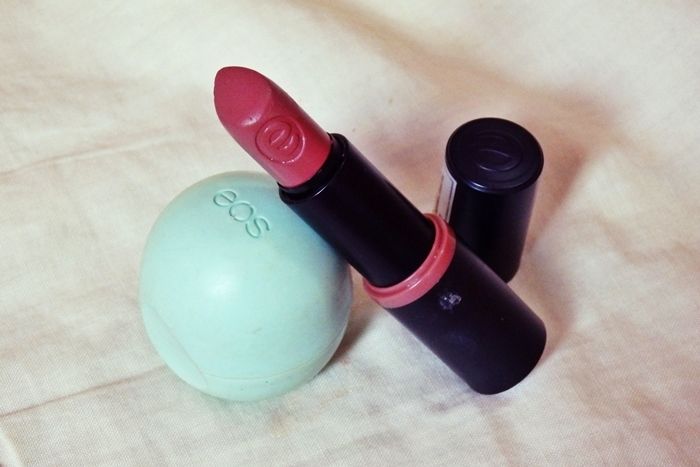 LASTLY! Lip products! I rarely use lipsticks, but when I do, it's either very natural or very bold. Nothing in between. But for the past months, I've been loving nude-y natural looks (I've said natural a thousand times already). The
EOS Lipbalm in Mint
we all know about this product already, got mine in a pack of five but I've just used this one because I love the cold minty feeling on my lips. Love-hate relationships with lipbalms since when I start using them, they work amazingly well but as time goes by, it's like my lips gets immune from their moisturising powers and I have to switch to a new one and switch back again. But yeah, Mint is love hearts! The very last product is my
Essence Longlasting Lipstick in Barely There
which I found and bought just because google said that it's a dupe for Mac's Twig. Never really had a MAC product in my life, I want to but its too pricey and I can't spend that much money on makeup since I need to but food. Food before Makeup. What I like about this product is that it's moisturising and at the same time pigmented, though you can't really tell since it's a your-lips-but-better colour.
Anyway, that's it! I've babbled and gushed about these products for too long and I don't think anyone could comprehend what I just jotted down.
Sorry. I guess my body subconsciously tried to make up for all those weeks of just musings and poems.
Anyway, what's your current holy grail product?